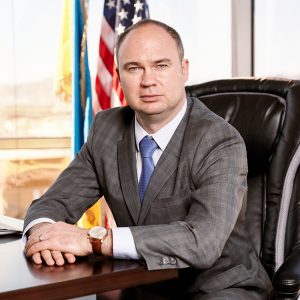 Attorney Petro Richard Kostiv, Esq. was born in Ukraine, and when he turned 18 he immigrated to the United States. Petro has traveled all over the world – for work and studying – and thus far has visited more than 150 countries. He is fluent in English, Spanish, Portuguese, in addition to his native Russian and Ukrainian.
He is ardently studying Chinese but admits that this language is a tough nut to crack. Being a citizen of the world, Petro understands how to handle the legal challenges that can often thwart business plans or can alter already existing arrangements.
Petro specializes in immigration and aviation law. He is also experienced in advising foreign companies in regards to investing and doing business in the United States. Petro has also represented countless clients from Asia, Eurasia, Latin America, Africa, and Europe who aspired to open businesses in the United States.
Legal Education & Licenses

Petro Kostiv has attended some of the most prestigious universities in the United States including a top ten university in the University of California Berkeley, where Petro earned his undergraduate degree in history and graduated with honors.
Following his graduation from UC Berkeley, Petro was offered the opportunity to work and study in South Africa, where he would go on to earn his first graduate degree, a Masters in Political Science from the University of KwaZulu-Natal in Durban.
After time away from the United States, Petro decided to attend the University of Michigan, Ann Arbor for law school, where he earned his Juris Doctorate. Before completing his degree at the University of Michigan, Ann Arbor, Petro spent a summer working at the Supreme Court of Argentina and studying Argentine law at a law school in Buenos Aires.
Following the completion of his graduate studies, Petro was admitted to the California State Bar and the U.S. District Court for the Central District of California.
Petro was a former President of the Ukrainian American Bar Association, in which he regularly participated in legal and political events related to his home country. Eventually, he pioneered a full course on the U.S. legal system at the prestigious Kiev University of Law in Ukraine.
Petro is registered to represent clients in the Central District of California and has successfully represented clients in both Chapter 7 and Chapter 13 bankruptcies and has helped clients get a fresh start.
Petro knows that bankruptcy cases can be complex when it comes to protecting assets, that is why he will review each and every case to make sure that clients get the best advice protecting assets while eliminating debt.
Petro's most specialized level of expertise is in immigration law, in all of its forms, but specializes most in business immigration for those attempting to invest in or operate businesses in the United States.
Additionally, Petro advises American individuals and businesses on how to succeed in foreign business environments. Petro has experience in working in the former Soviet Bloc, Latin America, and China.
Petro is currently working on establishing a permanent and official presence of the firm in other countries.
Petro has a litany of experience defending those most vulnerable in society before the Executive Office of Immigration Review (or more commonly known as Immigration Court).
Petro's success in immigration law is unparalleled. He has successfully represented countless clients before the USCIS, U.S. Embassies abroad, the Board of Immigration Appeals, and Federal Circuit Courts around the U.S.
Petro is an avid fan of soccer. Petro religiously follows the English Premier League, La Liga, Serie A and always passionately supports his beloved Ukrainian national team.
Since being a child, Petro has always dreamt to be a pilot for an airline; however, due to life circumstances, he decided to become a lawyer. Nonetheless, he is an active commercial pilot flying single and multi-engine aircraft. While not exactly Charles Lindbergh, Petro has accomplished several long-distance aviation journeys, including piloting a single-engine Piper from Los Angeles to Miami and from Los Angeles to Guadalajara, Mexico.
Petro has always been actively involved with the community. Together with his wife, he maintains an orphanage in Tanzania, Eastern Africa.
He has donated to and spent time with orphaned children in various in Central America and Mexico. Just a few days after the horrible earthquake in Mexico in 2017, Petro flew to Mexico City where in collaboration with the Red Cross of Mexico, Kostiv and Associates, P.C. provided help to more than 500 families impacted by the natural disaster.
Experienced in Representation Clients In

Professional Associations and Memberships

Federal Aviation Administration (FAA) Airmen Certificates

Teaching and Speaking Engagements